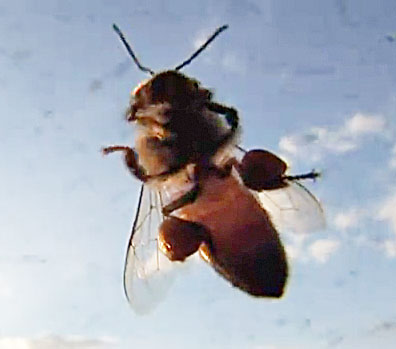 Dr. Mercola, mercola.com, 28 Jan 2012
Bees have been dying off around the world for more than a decade now, a phenomenon that has been named "Colony Collapse Disorder," or CCD.
The U.S. and the U.K. both reported losing a third of their honeybees in 2010. Italy lost half.
The die-offs have spread to China and India, in addition to many other countries.
A third of the U.S. food supply requires the assistance of the honeybee.
The collapse of bee colonies is probably multifactorial, rather than a response to one type of toxic assault.
Although experts don't yet understand all of the underlying factors and how they interact to cause our pollinators to disappear, they agree about one thing: if we allow this to continue, our already-limited global food supply is at risk, which means more than 7 billion humans occupying this planet are at risk as well.
The common honeybee pollinates 130 different crops in the U.S. alone, including fruits, vegetables and tree nuts.
Without our bees, almonds, pumpkins, watermelons and other varieties of melon, and even vanilla, could completely disappear.
Haagen-Dazs donated $250,000 to research into bee colony collapse disorder because it says the honeybees are responsible for 24 of its 60 ice cream flavors, including strawberry, toasted pecan and banana split.
As usual, at the core of the problem is big industry, which is blinded by greed and enabled by a corrupt governmental system that permits the profit-driven sacrifice of our environment. Unfortunately, this motivation reflects an extreme shortsightedness about the long-term survival of the human race, as well as of our planet. Not only are commercial agricultural practices harming honeybee colonies, but your own health is being compromised by deceptive marketing practices about the "honey" you buy, some of which isn't really honey at all, despite what it says on the label.
See full article on: http://articles.mercola.com/sites/articles/archive/2012/01/28/bees-death-destroy-food-supply.aspx