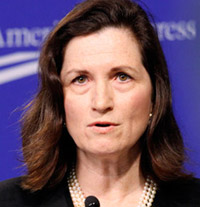 Daily Yonder, 7 July 2011
The Obama administration's top antitrust officer, Christine Varney, is stepping down after two and a half years. She will join a large Washington, D.C., law firm, Cravath, Swaine & Moore.
What does that have to do with rural America? Plenty.
Last year, Varney and Secretary of Agriculture Tom Vilsack hosted a series of workshops around the country to talk about anti-trust problems in the food business. Thousands turned out for discussions that looked at concentration in the seed business, among meat processors, in the chicken industry and among food retailers. Nothing has yet come of those hearings.
"She played a high profile role in the highly publicized inter-departmental agriculture workshops, but so far very little has emerged from the effort," said Albert Foer at the American Antitrust Institute.
Fred Stokes of the Organization for Competitive Markets said Vilsack and Varney were "totally sincere" in their intention, but that the effort was stymied by the demands of the election season. "The people they promised to go after and hang high are being shaken down to provide the billion dollar Obama campaign fund," Stokes told Counterpunch. "Varney was shut down by Obama's political machine."
"Varney was totally sincere when she came into office," Stokes said. "But she had the rug pulled out from under her."
"It is most likely that Christine Varney is leaving in total frustration with being hampered from doing from what she sincerely intended to do – curbing the market abuses that are putting independent family farmers and ranchers out of business and savaging rural America," Stokes said.
"I'm from Mississippi," Stokes said. "I endured ridicule and scorn for my unabashedly pro Obama administration stance and politics down here. These were going to be finally the folks who were going to turn things around and we were going to reverse the destruction of rural America. It hasn't happened."
"I was told by people they were definitely going after Monsanto," Stokes said. "And nothing has happened. She wanted to go after Monsanto and she was stopped. That's my feeling. It's been two years. They have had plenty of time to haul them into court."
{sharethis}