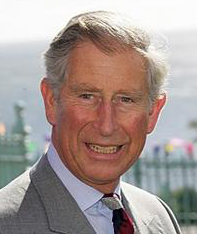 Louise Gray, Environmental Corespondent, The Telegraph, 28 Jul 2011
Consumers would buy more organic produce if they better understood the environmental and health risks of conventional farming, the Prince of Wales has said.
During a visit to Britain's largest organic pig farm, the Prince learned about the benefits of cutting down on chemicals, as well as higher welfare standards and more stable income for farmers.
Despite campaigning for organics for more than 20 years through his Duchy Originals food line, the Prince said consumers still do not understand the benefits.
He said many of the perks, such as taking pesticides and fertilisers out of the water supply, are also not taken into account.
"I hope it is increasingly possible to get through to consumers about what is involved in genuinely sustainable agriculture. Because half the problems – the environmental problems – are never taken into account," he said.
"I do not see why people cannot see organic really is better for us. Not only for the environment but for human health."
Organic food is generally more expensive than conventionally farmed produce. The Prince blamed the "perversion of the subsidies system which means you end up paying more for organic, which is better for the environment and your health".
Prince Charles was touring Bunkers Hill Farm in Norfolk, the first pig farm in Britain to source the majority of feed from crops grown within 50 miles.
Most pig farms now rely on genetically modified soy from South America because it is cheaper.
Some three million tonnes is imported into the UK every year, mostly for animal feed. However this leaves British farmers vulnerable to global price changes. Also GM soy is blamed for causing deforestation in Brazil, Argentina and Paraguay as trees are chopped down to make way for huge plantations.
The Prince welcomed the Waitrose supermarket initiative to cut carbon and energy. It also guarantees a price for pork at a time when pig farmers are struggling to meet feed costs.
"I was so pleased to meet the farmers involved in the issue of trying to produce in house feed within a limited area around where the pigs are grown," said the Prince.
"All these things are so important bearing in mind the huge cost of pig feed and other difficulties facing pig farmers."
Zoe Davies, of the National Pig Association, said farmers are struggling to survive because feed and energy costs are so high. She said it is impossible to compete against the factory farms in Continental Europe that have lower welfare standards.
It is estimated two thirds of the 2,000 commercial pig farmers in Britain are 'on the verge of collapse'.
Dr Davies said pig farmers source feed locally where possible but often it is just too expensive. At the moment just under 40 per cent of the pork consumed in the UK is produced here.
She said the best way to support pig farmers and better standards is to "buy British". "If the consumers valued the product more and were willing to pay more for it that would make it easier," she said.
{sharethis}